PT Ganda Alam Makmur; Foreman Safety
Posting date: September 15, 2020 Expiry date: September 29, 2020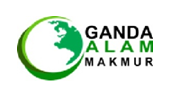 PT Ganda Alam Makmur is a company engaged in coal mining sector in East Kalimantan, which has a partnership with companies experienced in carrying out coal mining work.
Along with the increase in production value every year, we need highly skilled and experienced workers to fill the following positions:
FOREMAN SAFETY
The role of position Foreman Safety is :
• Lead by example in matters of health, safety and respect for the environment and local communities.
• Assist the HSE Manager in implementation of the HSE Department Annual Plan, including;
o Participation in HSE inspections.
o Preparation and delivery of HSE awareness and training materials.
o Participation in JSEA and risk assessments.
o Support to the KTT in meeting statutory requirements.
• Participation in the PT GAM Crisis Management System.
Requirement:
1. Minimum S1 in HSE, Mining Engineering or Mechanical Engineering.
2. Minimum 3 years experience in the field of safety at mining and construction industries.
3. Demonstrate a sound knowledge in the field of Health and Safety.
4. Knowledge of Mine Safety Act and Regulations.
5. Knowledge in the field of risk assessment and risk management.
6. Knowledge of incident investigation practices to identify causes and remedial actions.
7. Excellent interpersonal skills with the ability to work well with others as part of a team and contribute to a harmonious working environment.
8. Enthusiasm, self-motivation and the ability to maintain direction and achieve work objectives with minimal supervision.
9. Competent in personal computer applications including Excel, Word & Power Point.
10. Should have a valid Driver A License.
Only those who are ready to be assigned in PT Ganda Alam Makmur or in the workers providing company and willing to work on the site that are eligible for further selection process.
Please send your newest CV through the email: ptgamrecruitment@gmail.com / recruitment@ptgam.com (Max 2MB) with a format subject (Foreman Safety)
before Sept 27, 2020.