PT. Saptaindra Sejati; 2 Positions
Posting date: February 15, 2021 Expiry date: March 01, 2021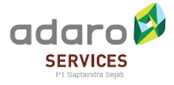 JOB VACANCY
PT. SAPTAINDRA SEJATI (SIS), subsidiary of PT. ADARO ENERGY Tbk, is a well-established and modern mining contractor company providing services for the rapid growth mining and related industries in Kalimantan, with more than 9000 personnel with various expertise. PT. Saptaindra Sejati keeps improving to be one of the best coal mining contractors in Indonesia.
We are seeking highly motivated individuals to join our team and grow with us as:
1. GROUP LEADER - RECRUITMENT
Requirement :
- Diploma degree in Mining/Civil with min. GPA 3.00
- Min. 1 year experience as a Group Leader in open pit coal mining area
- Have POP License would be an advantage
- Strong leadership and interpersonal skill, good analytical thinking and focus on detail
- Willing to work in a project area (Kalimantan area)
Job description :
- Responsible for the operation of a section within the mining area
- Overseeing a group of members and ensuring an efficient operation in achieving business targets
- Eliminate potential for incident
2. SENIOR OFFICER – PLANT DEVELOPMENT SYSTEM
Requirement :
- Bachelor degree in Statistics/Mathematics/Industrial Engineering with min. GPA 3.00
- Fresh graduates are welcome
- Computer literate, especially using Ms. Office, Minitab, Phyton and other machine learning software
- Good in data analyst, problem solving, communication and negotiation skills
- Willing to mobile but mainly located in Cilandak, Jakarta Selatan
Job Description :
- Completing the development of the Equipment Condition Monitoring (ECM) application together with IT
- Conducting analysis related to the condition of the unit, component and spare part using
- Conducting studies aimed at improving the maintenance system especially Condition Monitoring & Midlife in terms of efficiency
- Monitoring and controlling the implementation of ECM at all job sites
- Presenting Equipment Condition performance to related parties in the Head Office (internal/external section)
Apply to
Adaro Group has never asked our prospective job applicants to transfer some money for recruitment process.