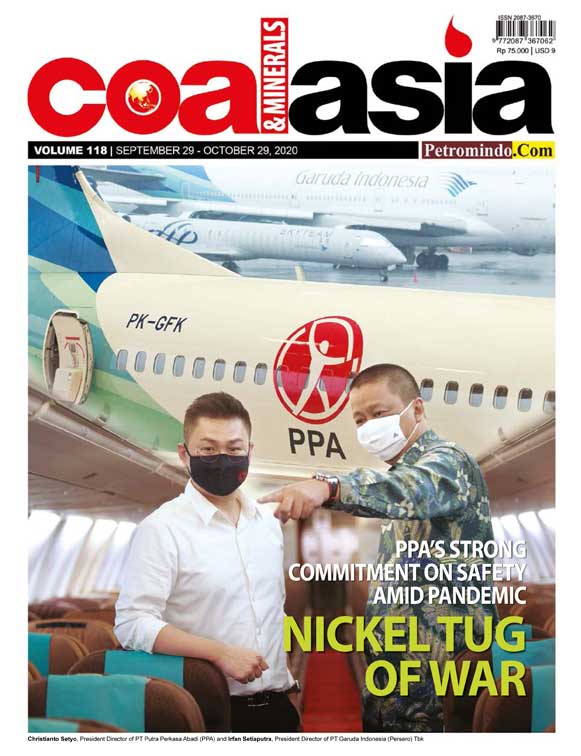 FOCUS
PPA's strong commitment on safety amid pandemic
health and safety are the most important things in mining industry. However, during lingering COVID-19 pandemic in Indonesia, health and safety are becoming much more important considerations. Miners will take any measure to ensure not even a single worker is infected
by coronavirus. Otherwise, the consequences may be unthinkable and unbearable.
---
MAIN STORY
Nickel tug of war
Domestic downstream nickel industry keeps growing and making Indonesia as the world's largest nickel producer. The outlook seems positive as global appetite for nickel as raw material of electric vehicle (EV) battery is increasing. However, there are some challenges facing industry players in developing domestic nickel industry, such as domestic nickel ore price and the utilization of low grade nickel ores.
---
OPINION | Singgih Widagdo
Questioning funding for mineral and coal (MINERBA) security
Providing the funds for MINERBA security is nothing new in the mining industry in Indonesia. But the "spirit" (at least, in coal business) has been attached for a long time in the coal royalty. During the initial growth of the mining industry in Indonesia (in the early 80s), Coal Development Fund of 7.5 percent was integrated into the 13.5 percent coal royalty.
LOGIN TO DOWNLOAD THE MAGAZINE (IN PDF)
FREE.