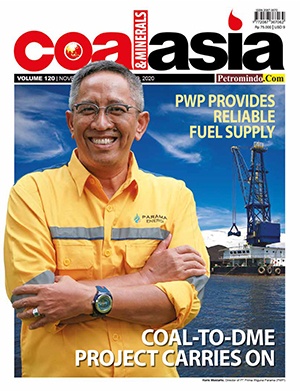 FOCUS
PWP provides reliable fuel supply
Mining activities that run 24 hours a day and seven days a week require reliable fuel supply which ensures to ensure sustainable operations. Parama Energi, is the brand name of PT Prima Wiguna Parama (PWP), is strongly committed to delivering reliable fuel supply forminers and supporting them as a long-term partner.
---
MAIN STORY
COAL-TO-DME PROJECT CARRIES ON
The government of Indonesia keeps pushing on the coal downstream project, particularly coal-to-DME, aiming to substitute the swelling LPG import and saving foreign exchange reserves. On the other hand, a study by IEEFA stated that the proposed project does not make economic sense.
---
OPINION | Bill Sullivan
Coal downstreaming – Inconsistencies and questionable policy choices
Coal downstreaming has become an important topic in the ongoing public dialogue about the future of the Indonesian coal mining industry and as low coal prices squeeze the profit margins of Indonesian coal producers.
Log in to download the magazine in PDF.