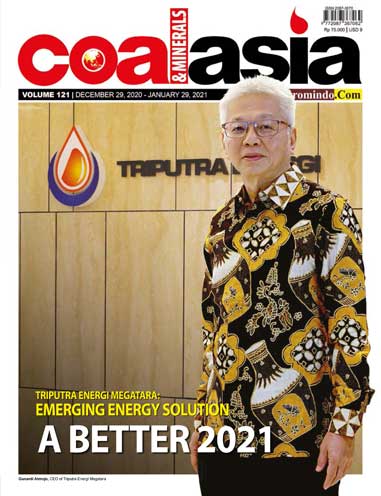 FOCUS
Triputra Energi Megatara: Emerging Energy Solution
Addressing the Covid-19 pandemic that hit businesses around the globe, industries have been searching measures to operate optimally amidst the unprecedented time. In mining operations, where fuel corresponds the large share of operational costs, miners ultimately require reliable services with competitive pricing fuels.
---
MAIN STORY
A BETTER 2021
After unprecedented market disruption due to Covid-19 pandemic during the year, industry players expect better condition in 2021 supported by improving coal prices in recent weeks. However, many industry players believe that coal market may not recover to the 2019 level anytime soon.
---
OPINION | Singgih Widagdo
2021 priority, coal production control
The government (the Energy and Mineral Resources or ESDM authority) has decided on Indonesian coal production for the year 2021 of 550 million tons. Out of the year's planned production, a large amount or 351.44 million tons would be allocated to companies supervised by the central government.
Log in to Download