PT Ganda Alam Makmur; 2 Positions
Posting date: October 24, 2020 Expiry date: November 07, 2020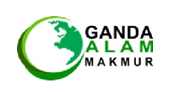 PT Ganda Alam Makmur is a company engaged in coal mining sector in East Kalimantan, which has a partnership with companies experienced in carrying out coal mining work.
Along with the increase in production value every year, we need highly skilled and experienced workers to fill the following positions:
1. FOREMAN SURVEY
2. SUPERVISOR SURVEY
The role of position is :
• To provide mine survey data on time, which will produce good quality.
• To ensure the target set by the project are meet in a time and quality manner.
• To control surveying by OB contractor.
• To ensure agreed mine planning be followed.
• To communicate surveying issues to mine plan and mining operation.
Requirement:
1. Minimum D3 or preferably Bachelor Degree
2. Having minimum 3 and 5 years of working experience in Surveying
3. More preferably have certificate Sertifikat Juru Ukur and POP
4. Min 30 – 45 years old
5. Excellent in AutoCAD, Teramodel or Mindscapes
6. Independent, can work under pressure and able to work well in a team.
7. Communicate openly and honestly at all times
Only those who are ready to be assigned in PT Ganda Alam Makmur or in the workers providing company and willing to work on the site that are eligible for further selection process.
Please send your newest CV through the email: ptgamrecruitment@gmail.com / recruitment@ptgam.com (Max 2MB) with a format subject (Survey)
before Nov 7, 2020.