PT. Bina Rekacipta Utama; 10 Positions
Posting date: January 21, 2021 Expiry date: February 04, 2021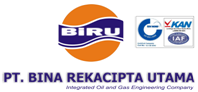 PT. Bina Rekacipta Utama is a multidisciplinary engineering company. It's range of services encompasses projects in the oil and gas industry at both onshore and offshore (fixed or floating) locations. The capabilities range from feasibility studies is including project management, engineering and design, procurement, construction and commissioning activities. Visit www.biru-eng.com to explore our success and expertise.
Currently we are looking to hire several positions to join our team in South Jakarta Office:
1. Senior Civil/ Structure Engineer
2. Senior Electrical Engineer
3. Senior Instrument Engineer
4. Senior Mechanical Engineer
5. Senior Process Engineer
6. Senior Process Safety Engineer
7. Senior Piping/ Pipeline Engineer
8. Project Engineer
9. Project Planning Control
10. Drafter/ Designer
REQUIREMENTS
1. Min 10 years experience for Senior Engineer Level
2. Min 2 years experience for Project Engineer/ Project Planning Control/ Drafter/ Designer
If you feel that you can meet the qualification, please send your CV in PDF format (with size no more than 1 MB) to:
Please mention the position on the email subject.