PT Jasa Guna Cemerlang; 8 Positions; 1 of 2 ads
Posting date: October 23, 2019 Expiry date: November 06, 2019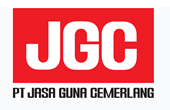 In the spirit of evolvement in engineering consulting services, PT Jasa Guna Cemerlang was established. PT Jasa Guna Cemerlang is unequivocally committed to provide an exceptional consulting services in a wide variety of business such as :
Engineering & Procurement, Public Work, Transportation & Logistic Analysis, Technology & Communication, Environmental, Architecture & Construction, Infrastructure, Industry, Mining & Energy, Technical Supervision, and Human Capital Management.
In operating our business, we comprehend our client needs of a professional talent in executing their projects. Therefore, delivering a qualified results for our client is paramount.
1. Process Engineers
Qualifications
• Min. Bachelor degree
• Minimum 5 years experience in related position
• Proficient in English
• Experienced in EPC project , Oil and Gas Project are preferable
2. Civil Engineers
Qualifications
• Min. Bachelor degree
• Minimum 5 years experience in related position
• Proficient in English
• Experienced in EPC project , Oil and Gas Project are preferable
3. Instrument Engineer
Qualifications
• Min. Bachelor degree
• Minimum 5 years experience in related position
• Proficient in English
• Experienced in EPC project , Oil and Gas Project are preferable
4. Electrical Manager
Qualifications
• Min. Bachelor degree
• Minimum 5 years experience in related position
• Proficient in English
• Experienced in EPC project , Oil and Gas Project are preferable
5. Mechanical Engineer
Qualifications
• Min. Bachelor degree
• Minimum 5 years experience in related position
• Proficient in English
• Experienced in EPC project , Oil and Gas Project are preferable
6. Piping Engineers
Qualifications
• Min. Bachelor degree
• Minimum 5 years experience in related position
• Proficient in English
• Experienced in EPC project , Oil and Gas Project are preferable
7. Construction Manager
Qualifications
• Min. Bachelor degree
• Minimum 5 years experience in related position
• Proficient in English
• Experienced in EPC project , Oil and Gas Project are preferable
8. Quality Inspector
Qualifications
• Min. Bachelor degree
• Minimum 5 years experience in related position
• Proficient in English
• Experienced in EPC project , Oil and Gas Project are preferable
~All applicants will be treated in confidential~
Please send your application and CV to:
recruitment@jasagunacemerlang.co.id
And quote applied position in the "subject" line
www.jasagunacemerlang.co.id